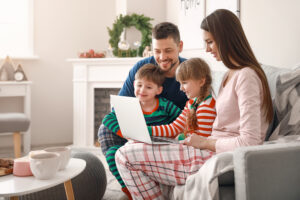 If you are a parent or loved one of a child or teen, you've probably noticed that their Holiday wish lists are becoming more and more high-tech. While these gifts are a hit on Christmas morning, some of them come with a hefty price…and we don't just mean with your pocketbook! Because many of these top-requested tech gifts can connect to the internet, they should require the same cybersecurity protections as your other connected devices. Without proper security, these devices can put your child at risk for cybercrimes or at minimum, an invasion of privacy. All too often, we are contacted by a concerned parent requesting our support to investigate if their child is being bullied online or contacted by an online predator. While we can search phone and device contents after the fact, it is far more important for parents to take necessary precautions on the front end to help minimize the potential for these cybercrimes and invasions of privacy. So, if you are planning to make your child or teen's high-tech wishes come true this holiday season, read on for some tips to keep them safe by becoming a well-informed "Parent PI."
Types of Security Issues to Be Aware of:
Becoming a "Parent PI" starts with an understanding of the risks. From Minecraft with your teen to cuddly Wi-Fi enabled teddy bears for your little one, it is important to be aware of the types of cyber and privacy risks you will have to address to ensure your child's online safety.
The Basics Get a High-Tech Twist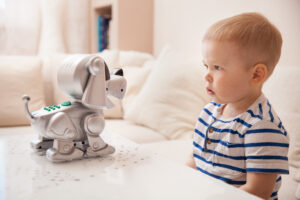 Technology has been injected into even the most basic toys. From board games to sketch pads, there is hardly a toy you can find now that doesn't have a high-tech option. Many of these toys connect online via an app used on a smartphone or tablet. When that is the case, be aware that anything connected to another device, or the internet, is vulnerable to hacking, malware, and social engineering-based attacks.
Teddy Bears That Aren't Just Filled with Fluff
Kids love teddy bears and they love technology. It was a natural progression that the 2 would merge, but in the process, we ended up with augmented reality talking teddy bears with cameras connected to an app. While it may not initially seem like a big deal, keep in mind that shared information is often stored in the cloud without proper encryption and sometimes even the passwords meant to protect are not encrypted themselves. Red flags have been raised repeatedly in the past after some of these types of toys were hacked and millions of people's records were compromised. This doesn't mean these are bad choices for gifts, in fact some can be very educational, just be aware of the risks.
Technology Gifts for Communication or Fitness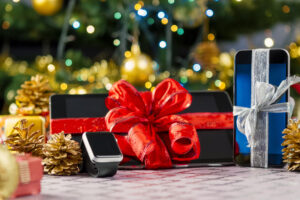 Cell phones are quite possibly the most requested adolescent/teen gift. "At what age is it appropriate to give this device?" is a hotly contested debate in most homes and something that should not be taken lightly by parents. In addition to smartphones, there are laptops, tablets, and smart watches. Smart watches and fitness trackers specially geared for younger children are also becoming increasingly popular. With all these devices, risks include location tracking, malware, phishing, cyberbullying in games and on social media, and a lack of encryption for shared and stored data, just to name a few.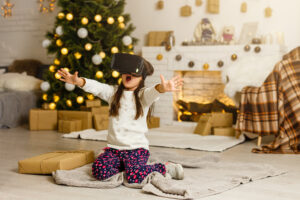 Next-Gen Toys That Track & Eavesdrop
Robots, virtual reality headsets, drones, and voice-based AI powered digital assistants are all big-ticket items for this generation's pre-teens and teens. While these devices usually have parental control via filters, there is still the risk that data is often unencrypted. High level of data is typically collected via these tech toys. Additionally, there is the potential that these devices may have the ability to track the child's habits, what they are watching, listening to and even location tracking. As with anything connected to the internet via apps, there is the potential for malware and hacking.
Online Gaming is a Hugely Popular Target for Cybercriminals!
It is unfortunately incredibly common for cybercriminals to target adolescents via online gaming. Many of the most popular games such as PlayerUnknown's Battleground, Fortnite, and Minecraft are all multiplayer and interactive. This means your child may likely be talking to and playing with strangers. These unknown players may try to get personal information from them that can be used for identity theft, or they may attempt to grow close to them like friends and groom them. It's important to be aware that there have been countless cases of online predators lying about their identity to sexually exploit children via online gaming.
Tips for Keeping Kids Safe Online
No matter what tech gift you decide to give, here are some tips for keeping kids safe online:
1. Set up parental controls and play with the device before wrapping and placing under the tree.
Before wrapping up that shiny new tech toy, open it up, charge the device, and explore the safety settings, reporting tools and parental controls. Obviously, this process will be different for different devices, but it is a wonderful safeguard to prepare your gift for immediate and safe use as soon as it is opened Christmas morning. When setting up in advance is not possible or ideal, at the very least ensure that your home Wi-Fi is filtered and that you still set up the device PRIOR to your child using it. Remember, no filter is ever completely effective on its own and the best defense is talking with your child about what to do if they see something that isn't appropriate or upsets them.
2. Be a "Parent PI." Monitor your child's online activity (especially their gaming habits). Set daily limits and expectations.
Everyone in your home should be part of the conversations about online safety. During these conversations, set expectations for your children regarding technology use and the importance of staying safe and being responsible online. When children and teens are involved in the conversation, it allows them to feel a sense of ownership and responsibility. Create an understanding or agreement with your children when it comes to the following: daily screen time allowances, unusual friend requests, allowed apps or in-app purchases, where is the phone kept at night, online gaming usage, etc. Additionally, you and your child should be aware of and look for anything unusual that occurs with devices: connection issues, toys or devices following commands that were not previously programmed, or higher-than-usual data usage. These are signs that may indicate that the toy or device was hacked and should be immediately disconnected.
3. Never use free or public Wi-Fi connections.
The biggest threat to free W-Fi security is the ability for a hacker to position themselves between you and the connection point. Unless it is a trusted Wi-Fi connection, think twice before logging in.
4. Communicate with your child about how to practice safe behaviors online.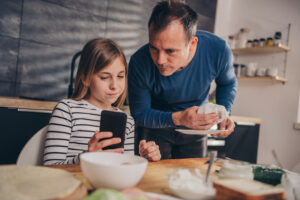 Before giving technology to your child, talk with them about it. Having a conversation shows you are engaged and interested in their online lives, and it shows them you are there to help should they need it. Despite parental best efforts, no filters, or settings 100% prevent issues so honest and open conversations that arm your child with knowledge is critical for their safety. Give you child practical tips for how to handle unwanted contact or content is important. At a basic level, it can be showing them how to take a screenshot for reporting, showing them how to find blocking and reporting options on whatever app or game they are using, or simply just turning the screen or device off. Most importantly, your conversation should assure them that they can always come to you or another trusted adult to ask for help or to report anything unusual or unsolicited that they come across.
5. Keep the Conversation Going!
Regular communication and conversation about online safety is important. Technology is ever changing. There will always be a new app, game, or device with a whole new set of security concerns that is being developed and released. It's important to stay up to date with the technology your child is exposed to so keep those lines of communication open!
Conversation starters to facilitate these discussions could include:
What's your favorite app or game and what do you like best about it?
Can you teach me how to play this game or use this app?
Has anyone online ever asked you for personal information? What is okay or not okay to share online?
Have you ever witnessed or experienced bullying online? How would you help a friend if they were being cyberbullied?
Have you ever seen or experienced something online that felt inappropriate or worried you?
We all love our high-tech gadgets, and they make exciting gifts for the holidays. But before you run and purchase the latest and greatest tech gadget or communication device out there, remember that security risks are real and should be addressed. As an informed "Parent PI," you now realize that no one is immune to cybersecurity crimes. The more aware you are of the potential issues and the more you stay engaged in your child's online behavior, the safer your children will be. Have a Happy and Cybersafe Holiday!