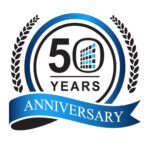 We're Celebrating 50 Years of Excellence!
For half a century, Bearden Investigative Agency has been a leader in the investigative industry. Standing at the forefront of technological innovations has ensured the agency continues its legacy of excellence. Uniquely positioned as an attorney-led agency, our investigators have a long-standing history of solving tough cases efficiently and ethically. Building on 50 years of excellence, Bearden Investigative Agency looks ahead to the future as we continue to provide the same level of service our clients have come to experience.
Bearden Investigative Agency was founded in 1972 by Jim Bearden, who left the government intelligence field to establish his own company. His son, Wes Bearden, worked alongside his father for many years and is now the company's Chairman of the Board. The company sold its large security division to a multinational corporation in 1991 and refocused its mission on being an attorney-led, full-service investigative agency that provides high-quality work with trusted results.
Over the last 50 years, the agency has worked in all 50 states and some 42 countries. They have offices in Dallas, Houston, New Orleans, and New York, with plans to open additional offices nationwide and overseas. BIA has represented thousands of individuals and attorneys, hundreds of corporations, and numerous federal, state, and local governmental entities – each with a unique problem.
Bearden Investigative Agency's experience, resources and relationships are unrivaled in the profession, and their extensive case history has included many complicated and high-profile cases such as:
Watergate investigation
The Brilab Case
FBI sting operations known as Abscam
Cullen Davis criminal defense cases
Atlanta child murders
Delta Flight 191 crash at Dallas Fort Worth International Airport
(Retired) Dallas Cowboys player Michael Irvin's criminal cases
Pennzoil v. Texaco
The Lipstick Murders
The Sharpstown Scandal
Henry Lee Lucas Mass Murders
MGM Grand Hotel fire in Nevada
Additionally, they have worked on more than a dozen murder cases involving organized crime, 59 capital murder investigations, contentious divorce and child custody cases and sensitive issues on political campaigns. BIA has handled a wide range of business cases, including pre-acquisition due diligence, in-depth background investigations and corporate litigation defense development.
WHY CHOOSE BEARDEN INVESTIGATIVE AGENCY?
When a client reaches the point of needing an investigator, they are usually in a state of crisis. Or at the very least, they need confirmation and documentation to win a case or make an informed decision. When you choose Bearden Investigative Agency, your case is handled by a leader in the industry backed by 50 years of documented international success. Additionally, the investigators at BIA are attorney-led which means you receive the utmost care from start to finish and all investigative documentation will be admissible in court. As an international investigative agency, Bearden Investigative Agency is poised to serve clients in all 50 states and around the world.
It's exciting to be celebrating 50 years!